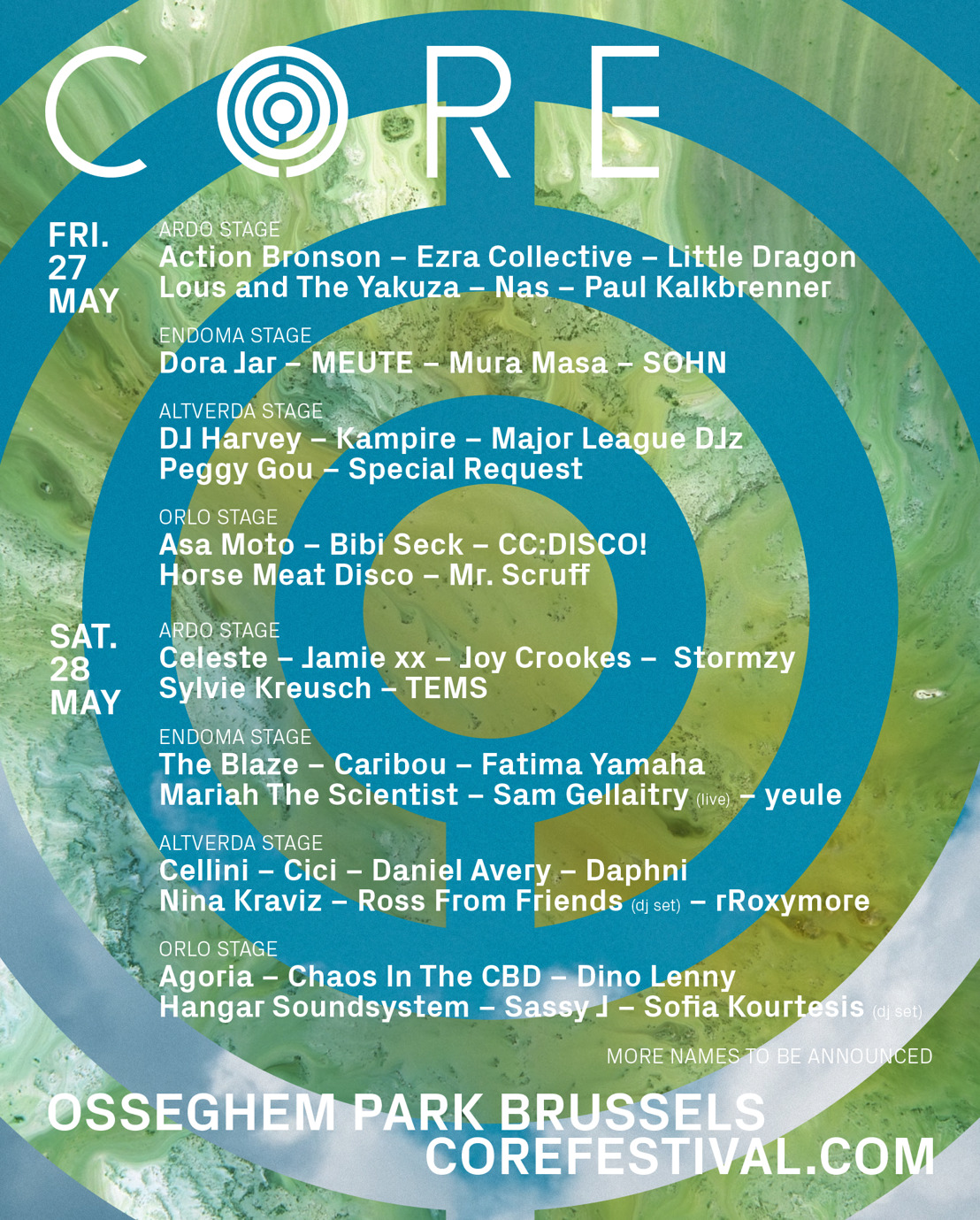 CORE Festival adds a wave of new artists
Lous and the Yakuza, Nas, Peggy Gou and Stormzy among others are joining the line-up
Wednesday, March 30, 2022 - CORE Festival is delighted to announce a fresh wave of new artists today! Lous and the Yakuza, Nas, Peggy Gou and Stormzy among others have all joined the line-up of the brand-new two-day boutique festival. Renowned international artists such as Action Bronson, The Blaze, Celeste, Jamie xx, Mura Masa and Paul Kalkbrenner were previously announced. CORE Festival takes place during Ascension Day weekend on Friday 27 and Saturday 28 May in the beautiful Osseghem Park in Brussels, the vibrant capital of Europe. Tickets are on sale via corefestival.com.
CORE Festival will immerse visitors within the raw beauty of nature's surroundings, featuring a very eclectic line-up of various genres and niches across 4 different stages spread in the Osseghem Park from noon until 01:00. Hip hop, R&B and soul will take over the outdoor Ardo. Lous and the Yakuza, Stormzy and Nas have just been confirmed to perform on this stage, while Celeste, Action Bronson, Ezra Collective and Sylvie Kreusch were previously announced. The Ardo always ends with a party. On Friday, Paul Kalkbrenner will close out the festival, on Saturday it's up to Jamie xx.
Festivalgoers will be able to enjoy a bunch of live acts in the indoor Endoma, including The Blaze, Caribou, Dora Jar, Fatima Yamaha, Mariah the Scientist, MEUTE, Mura Masa, Sam Gellaitry (live), SOHN and Yeule. At the outdoor Altverda, the festival fully focusses on alternative dance with eye-catcher Peggy Gou – just confirmed – as well as other acts like Daniel Avery, DJ Harvey, Nina Kraviz, Ross From Friends and rRoxymore. Fans of house music will find a home at the intimate Orlo with Agoria, Bibi Seck, CC:DISCO!, Chaos In The CBD, Horse Meat Disco, Mr. Scruff, Sassy J, Sofia Kourtesis among others.
CORE Festival wants to awaken all senses with a unique total experience where nature, live music and art meet, offering festivalgoers an ensemble of impressive and unique art, sound and light installations that blend harmoniously. The organizations of Tomorrowland and Rock Werchter – two of the world's most renowned and multi-award-winning festivals, both having received various highly acclaimed international awards and nominations – are joining forces to create a completely new, original and refreshing festival in an intimate setting in Brussels' beautiful nature.
Please find an overview of all confirmed artists on corefestival.com.
​Tickets are available via corefestival.com. A day ticket is available from 67 euro (including service costs), a weekend ticket from 123 euro (including service costs).
CORE Festival
​Friday 27 & Saturday 28 May 2022
​Osseghem Park, Brussels
​Tickets and info: corefestival.com
​A collaboration between Tomorrowland & Rock Werchter
About Tomorrowland
​Tomorrowland is one of the most popular and iconic music festivals in the world held in Boom, Belgium, organized and owned by the original founders, the brothers Beers. Tomorrowland was first held in 2005 and has since become one of the world's most notable global music festivals. It takes place every year in summer and now stretches over 3 weekends in 2022, welcoming 600,000 People of Tomorrow from over 200 countries, and selling out in minutes year after year.
Tomorrowland is located in a beautiful natural place, recreation area De Schorre, in the town of Boom, Belgium. It is a true fairy tale world situated in beautiful natural surroundings, with a strong eye for detail such as enchanting décor, fascinating acts and peripheral animations, amazing tasty and healthy food and drinks, spectacular fireworks - an unforgettable and incomparable show. Every year, the festival features a special theme that inspires the famed MainStage design and stage production.
The 16th edition of Tomorrowland in 2022 will take place from 15 July to 17 July, from 22 July to 24 July and from 29 July to 31 July. More info: https://www.tomorrowland.com
About Rock Werchter
​Rock Werchter is Belgium's largest music festival: four days and four stages, with the biggest headliners, young talents, raging rockers, incredible singer-songwriters, new names, and the coolest beats around. Rock Werchter deliberately builds its programmes across all genres. In 2022, Rock Werchter will take place between Thursday 30 June and Sunday 3 July. Rock Werchter is a unique experience. The line-up of artists is always world-class, the conditions exceptional, and the festival feeling omnipresent. Rock Werchter is a multi-award-winning international hit and a regular fixture in every music lover's diary. More info: rockwerchter.be.
Debby Wilmsen Press Coordinator & Spokeswoman, Tomorrowland
Jordy Van Overmeire PR Coordinator, Tomorrowland
Nele Bigaré Press & Communications, Rock Werchter